Update: Teacher Stats & Attendance Tracking
The following teacher stats will now be shown on teacher profiles! This change will go live in 24 hours.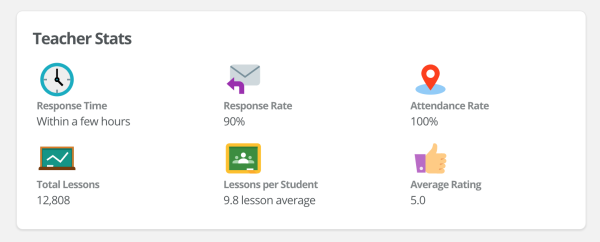 Based on all of your feedback, "Attendance Tracking" has been slightly modified. We have widened the window for you so that now, in order to be counted as having attended your class, you must
open the session page up to 15 minutes before or up to 10 minutes after the scheduled start time of the class
.
Please note that you do not have to actually click the "Start Lesson" button to be marked as having attended, but must be present on the session page at some point during this time frame. You will see this notification in the bottom right corner of the screen indicating that you were marked as having attended the class:

If you are not present on the session page during this time frame, it will be marked as "Missed" and factored into your "Attendance Rate". You will receive a notification as well as an email about your missed class, so that you may reach out to your student to resolve the absence.
If you were incorrectly marked as missed for some reason - perhaps you'd previously agreed to reschedule with the student - you may click "Contest" next to the lesson on your Attendance page here
https://www.verbling.com/admin/attendance
in order to have the absence removed from your stats.
*Please note, previous reported inaccuracies with "Response Time" and "Attendance Tracking" have since been fixed.